Poetry Strategies for MAXIMUM Student Engagement
Download the lesson plans and resources by clicking on the image below. 
Here's what I've got for you: 
A lesson plan page for two days of lessons

An "At a Glance" page for you to get an overview of the activities, how to differentiate them, and ways to cut down on grading so much!

A "Teacher Idea" sheet with specific poems to use and what to do with them

A mini-lesson to use with your students in class (even if you hate teaching poetry and even if you've never heard of the DIDLS analysis strategy–You can learn it right along with your students!)

Student-friendly video clips to support the learning (pre-viewed for school appropriateness)

Small group, partner, and independent activities (founded in best-practices and teeming with rigor)!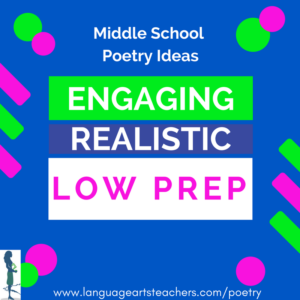 Stressed about what to DO with the materials you just downloaded? 
In the video below, I explain HOW I use the lessons, activities, and resources.
Plus, I share specific strategies to ENSURE your students are actively engaged through reading, speaking, and writing.
Between watching the video training below and downloading the lesson plans and resources above, you will learn:  
– How to introduce the analysis strategy of DIDLS to your students (with a video and a super-teachable mini lesson, even if you've never taught it before)!
– What to do BEFORE your students EVER annotate the poem!
– Easy, student-friendly poetry annotation strategies (plus what to have them do WITH their annotations)!
– How to keep students engaged during the whole process (they'll be doing the "heavy lifting" — not you!)
– And yes! I have specific ideas built in for how to differentiate what you're doing in the classroom!
My goal is to ALWAYS help you teach awesome lessons AND have an actual life outside the classroom! Let me know what you're thinking (and what questions you have) by sending me a quick email at contact@languageartsteachers.com
Need lesson plans 100% done for you all year long?