Ideas for the End of the School Year
6th Grade Language Arts
Everywhere I look, it seems like teachers are gearing up for end-of-the-year lessons and activities. The 6th grade Language Arts classroom ideas I've been looking at online in particular seem to be loaded with all these incredibly a-MAZ-ing ideas… like novel projects and maker-space ideas and video log stuff.
SO FREAKING COOL!!!!!
But my classes aren't… like that.
I mean, yeah, I like really cool creative stuff, but here's the problem— My students are C-RAZ-Y this time of year.
To be honest, the thought of adding a high-energy project that allows for freedom and mobility in the classroom at THIS time of year does not work well for me or for the kids.
Don't get me wrong— I have classroom management! It's just that realistically, that whole last part of the school year is already a high-strung, high-energy time of year, probably the most chaotic of any other time.
So what to do?
Here's the answer that I've found works for me and is effective for my students.
I spend the last few weeks simply reviewing the main concepts we've studied all year long. And no, it's not boring! Sheesh.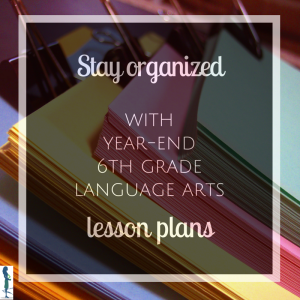 I have four units, each a week long, and they all encompass different levels of group work, review & practice, creativity, mini-projects built in to the lessons, etc.
Here's why this works —
I basically treat the last part of the school year like any other part.
We keep the class routine the same
We keep the work ethic expectations the same
We still work on creativity with the content, all built-in to the lesson plans
We adhere to the standards
We ensure that when the kids leave 6th grade, they've had a solid overview of the most crucial content and critical thinking skills right at the end of the year
The four year-end lesson plan units I focus on are these (and they're each a week long):

Elements of Drama

Figurative Language & Poetry

Elements of Fiction / Short Stories

Text Structures / Features
But it's about so much more than just those topics. Embedded within each of those units are interactive reviews of the concepts… bell ringers, instructional review activities, group work, independent practice, quizzes, exit tickets, and mini-projects to allow for more creativity.
Um… doesn't that sound like a normal part of the 6th grade Language Arts curriculum?
Yeah, and that's why it works! It's easy and it's all done!
Wanna use them, too?
Grab your copy of the lesson plans and all the printables that go with them!
Click Here for the Lesson Plans!
Click here and I'll pass it on to you!